The world of golf is often seen as a gentleman's place, where etiquette and following the rules are as key to the game as a set of clubs. Despite this, golf has a murky underbelly of murder, death, and disappearances. The much-covered plane crash of Major champion Payne Stewart in 1999 shocked the golfing pro world, but many of our stories today went unnoticed or are not remembered. Read on for ten times golf courses and the wider golfing world turned sinister…
Related: 10 Origins Of Sports Balls
10

Golfing During the Blitz

During Adolf Hitler's relentless blitzing of England in 1940 and 1941, golf clubs across the southern coast of England had special provisions in place to account for the bombings. The rules committee of Richmond Golf Club in Surrey introduced a now-famous list of allowances while playing. The list included asking players to collect pieces of shrapnel while on their rounds, allowing players to take cover without time penalties during bombardments, and allowing a player to re-hit if their stroke was affected by an explosion.

The Nazi propaganda machine was aware of the rules, calling them "ridiculous reforms," showing a "pretended heroism" as the Germans bombarded the golf course and surrounding areas with over 1,000 bombs. The raids destroyed areas of the golf club property and other part around Surrey, in which over 2,300 people were killed and more than 14,000 maimed or injured.[1]
9

Answers to the Jimmy Hoffa Disappearance

In 1982, Jimmy Hoffa was legally declared dead after disappearing in 1975 without any trace of his whereabouts. According to some investigative reporters, Hoffa was murdered and is now buried under one of the greens of the Savannah Inn and Golf Country Club in Atlanta, Georgia. (Many theories still abound about Hoffa's final resting place, including under a barn, a swimming pool, and even former Giants Stadium, among others.) However, the course was owned by mobster Lou Rosanova, who frequently urinated on a particular spot during his rounds of golf.

When challenged why he always did this, Rosanova confirmed it was the body of Hoffa who lay under the green. According to attorney accounts, Rosanova said Hoffa had been flown in from Detroit and buried under the green as this was somewhere "no one would ever suspect." Other mobsters who knew this would also urinate on this spot during their rounds, laughing about the suspected burial.

Hoffa was known to be linked to Teamsters and was garnering mob support during his run for Union Presidency. Around the time of his disappearance, the caddy master at the club, David Days Jr., remembers some unusual activity at the club with "something going on, [but] we just couldn't put our finger on it."[2]
8

Wrong Place, Wrong Time

During a July afternoon at the Pinetree Country Club in Georgia, the Director of Golf, Gene Siller, was shot in the head and killed while inspecting why a vehicle was left abandoned out on the course. Siller had been tasked with inspecting a white RAM 3500 truck, which was apparently left abandoned on the 10th green. When searched, however, it also contained two murdered victims. If all of this sounds like something more out of a game of Grand Theft Auto, you would be forgiven, as the three murders do not appear linked.

The two bodies found in the truck were said to have been bound by their mouth, hands, and legs and had been shot dead. When the unsuspecting Siller approached the scene trying to ascertain why there was a truck parked in the middle of the green, he was shot dead. Siller appears to have been in the wrong place at the wrong time—despite being a busy Saturday afternoon on the golf course where he was also a pro.

Days after the triple homicide, police arrested 23-year-old local Bryan Anthony Roden, who has been charged with three counts of murder, but a motive has yet to be determined.[3]
7

Mysterious Dismembered Body Found

On the morning of April 29, 1955, the body of a middle-aged woman was found bludgeoned to death near the tee box of the 17th tee of Potters Bar Golf Course. The discovery of the corpse led local police to question over 4,000 men and, using fingerprint technology, managed to identify the culprit after matching bloody prints left on a tee box marker which was presumed to be the murder weapon. Eventually, a 17-year-old boy was arrested and convicted of murder. However, this incident was not the first time a corpse had been discovered on this course.

Seven years earlier, a young boy was diving in one of the ponds out on the course when he discovered a rotting, severed hand. After draining the pond, more pieces of a body were uncovered, with some of them evidently hacked to pieces and burned. A hacksaw was also found alongside the severed and burned head of the victim. Police identified the body as missing man Albert Welch, who had left his home with a single note to his wife in 1947, which simply read, "I have gone for a walk…Shan't be home for tea."

Using the best scientific techniques of the time, Welch was identified by a number of methods, including plaster casting, using fingerprints somehow found in the lake, and examining the upper jaw to match an apparent abscess that Welch had complained about. The mystery remains unsolved as to who murdered Welch and sawed his body into pieces, with key details set to be made public in 2031. Potter Bar Golf Club shut and ceased trading in 2018.[4]
6

Found Hundreds of Miles from Home…on a Golf Course

In August 2015, 36-year-old librarian Saima Ahmed from Wembley, London, was reported missing by her immediate family. Her whereabouts were unknown until fragments of her skull and other bones were found at a Golf Course in Edinburgh—the Gogarburn Golf Club—in January 2016. How Ahmed's remains were found so far away from where she lived has left her family and detectives perplexed. Found with her remains was a train ticket dated August 30, indicating she traveled alone to Scotland's capital on that day. CCTV of her boarding a train at Wembley Central Station confirmed this.

A local dog walker in Scotland told police that they had witnessed a woman who matched the description of Ahmed "staring out at the sea" of Portobello beach. Other than this, very little is known about her movements once in Edinburgh. Police misconduct cases have been brought against the force for not treating the case with a high enough priority, and this has frustrated Ahmed's family. They remain completely confused by the entire case. No amount of forensic examinations of the remains indicate any criminal activity, and a fresh appeal for information was mounted in 2020, yet the case remains unsolved.[5]
5

Missing Golf Club Designer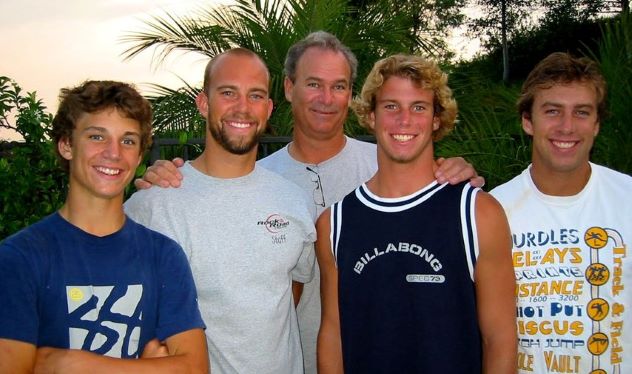 The designer of Lynx Golf's Parallax Irons, Dave Boone, left his Orange County apartment on the afternoon of December 5, 2006, and was never seen again. Boone had been successful in the golf club design world, with his award-winning Irons being used by winners of both the Masters and the U.S Open. Both Ernie Els and Freddy Couples used Boone's Parallax Irons in the 1990s, enjoying incredible success.
His disappearance shocked many in the golfing world. Local police searched for Boone in the nearby Whiting Ranch Wilderness Park, using helicopters and dogs to try and pick up his scent, but no traces of Boone were found. Boone had four sons, aged between 17 and 27, and all four scoured the nearby wilderness on bikes looking for clues of his whereabouts. Boone left no sign or indication that he was preparing to take his own life.
Searches of his computer did not point to suicide, and Boone had left the apartment with only the clothes he was wearing and his keys. Some of the bloodhounds eventually tracked his scent to a part of the mountain range, but no other firm clues have been found. It is theorized by online investigators that Boone committed suicide in the wilderness, and his body would have been eaten by local wildlife. However, the case remains a mystery, tied forever to the golfing equipment world.[6]
4

Death from Above

During a thunderstorm, a golf course can become one of the most frequently struck places when fork lightning occurs. For this reason, being stuck out on the course can be extremely dangerous. Numerous stories exist of golfers being struck while out, but earlier in 2021, a 70-year-old golfer was found dead on the 7th green of Burlington Country Club in New Jersey during the middle of the day. It was apparent from his condition that he had been fatally struck by lightning during the recent storm.

A near-fatal account occurred during an incident in Wisconsin in which four people were struck in the same strike during a round at the Big Fish Golf Club. One of the golfers recalls hearing an almighty cracking sound and then woke up on the ground. Even in the pros, fans may recall Tony Jacklin having his club struck mid-swing and it flying 30 feet away from him. Or Lee Trevino, who was struck by a lightning surge from a nearby lake, requiring hospitalization.[7]
3

Pierced Through the Heart

Those of us who have played or watched golf before will know that frustration and anger can often lead to players throwing their clubs in disgust. This has been seen many times on the PGA Tour. But in Gloversville, NY, during July of 1994, a player doing this would find it backfire—fatally.

Young golfer Jeremy Brenno was playing a round at his local course, the Kingsboro Golf Club, when he very wildly hit his 3-wood on a bench after making a bad shot. The shaft of the club snapped and bounced backward toward Brenno, entering his chest and spearing him in the heart. Brenno was attended to by emergency services but was pronounced dead by 6 pm. He was only 16. His death reminds all who play golf to remember (despite this list)—it is only a game.[8]
2

Food for the Crocodiles

Many golf clubs around the world have local alligators or crocodiles who live in the water surrounding the course, with many players posting videos of encounters on social media. In Kruger National Park, South Africa, Jacques van der Sandt was retrieving golf balls from the Lake Panic dam with his two legs in the water up to knee height. He was suddenly grabbed and pulled by a force from the unseen murky depths.

The crocodile, which was 12 feet long and had recently come out of hibernation looking for food, dragged van der Sandt into the water, biting him in the back and chest. He was not seen again by his friend with whom he was playing a game on who could find the most golf balls. His body was recovered later by police as it was not completely mutilated by the crocodile. Rangers later killed the animal in order to protect against any further attacks on locals.[9]
1

Golfer Never Resurfaced

Many in the golfing world will know that searching for golf balls can be its own pastime in itself. In October of this year, two golfers in Northern Ireland at the Hilton Belfast Templepatrick Golf and Country Club went out in diving equipment looking for golf balls in the lakes out on the course. The men were employed by the hotel to retrieve the balls and then sell them back to the golf club.

At around 2 pm, one of the men resurfaced to find his partner had yet to come up from his dive. After a short period, emergency services were called as it was becoming apparent the second man might be in grave danger. Around five hours later, a body was recovered from the murky water of the course, with post-mortem investigations suggesting the man may have had a "health complaint" while diving. Unfortunately, the course claimed his life for the relatively cheap industry of used golf balls.[10]