When it comes to auctions of fine art masterpieces and valuable antiquities, provenance is everything. For those unfamiliar with the term, provenance is the documented history of the ownership of a particular piece being put up for sale. Before making a bid on an item that may sell for many millions of dollars, a buyer wants to be sure that what they are buying is authentic, with the paperwork to back it up.
Provenance can also ensure that the seller has ownership of the piece and thus the legal right to sell it. Auction houses will usually require extensive documentation of provenance before agreeing to facilitate a sale. Still, there have been several auctions that ended in sales—and lingering controversy over the origin and history of an item. Here we take a look at 10 high-dollar auction items of questionable origin.
Related: 10 Fake Artworks And Artifacts Exhibited In Museums
10

The Tutankhamen Head

In July 2019, the prestigious London auction house Christie's held an event called The Exceptional Sale, and the item at the center of the event was an "Egyptian Brown Quartzite Head of the God Amen with the features of the Pharaoh Tutankhamen." The stunning piece up for auction was dated to the reign of Tutankhamen, circa 1333-1323 BC, and it sold for a whopping £4,746,250 with the buyer's premium (a fee on top of the winning bid that goes to the auction house). For American readers, that's roughly 6.4 million U.S. dollars.

It sold for this staggering amount, despite its provenance being unclear before the 1960s. On top of this, the Egyptian government contested the sale, claiming that the artifact would have been stolen from an Egyptian temple and unlawfully removed from the country in the 1970s. The Chairman of the International Association of Dealers in Ancient Art (IADAA) countered that it was common practice for Egyptian antiquities to be sold and shipped out of the country "by the crate-load" until Egypt banned such sales in 1983.

The 2019 Christie's sale was to another private collector, so the location of the object is unknown until it comes up for sale again. Yet the controversy over provenance and ownership still remains.[1]
9

The Jimi Hendrix Monterey Stratocaster

On December 3, 2021, Paul Davids, who runs a successful guitar-focused YouTube channel, uploaded a video with the title "I PLAYED JIMI HENDRIX' $10,000,000 GUITAR." The black Fender Stratocaster in question was purported to be one that Hendrix famously played at the 1967 Monterey Pop Festival. However, eagle-eyed Hendrix fans quickly pointed out that some identifying marks on the guitar in Davids's video didn't match those seen on Hendrix's Strat, as seen in film footage of the Monterey festival.

Most telling is a missing chunk of black finish on the back of Hendrix's guitar, which seems to have moved on the guitar in question. Further doubts arose when news was unearthed that this guitar was to be sold by Heritage Auctions in 2017, but Heritage stopped the sale after experts cast doubt that it was the same guitar Hendrix played at Monterey. Davids eventually updated his video to express doubt on the guitar's provenance before pulling the video entirely. Myles Poulton, the man who had arranged for Davids to play the guitar in the video, still believes in the provenance of the Hendrix Monterey Strat, despite many in the YouTube guitar community remaining unconvinced.[2]
8

The Hitler Phone

In 2017, Maryland auction house Alexander Historical Auctions sold a truly grim item—a red phone purported to be the one Adolf Hitler used in his notorious World War II bunker. Considering all the evil orders that would have been issued from Hitler's phone, the auction house described the object as "arguably the most destructive 'weapon' of all time." (LINK 10) Although a buyer happily paid $243,000 for the phone, serious doubts were cast on its provenance.

Frank Gnegel of the Frankfurt Museum for Communication labeled the phone as "clearly a fake." At the same time, a Dutch telephone collector and expert, Arwin Schaddelee, wrote extensively about his doubts on its authenticity. In particular, he notes several British parts, which would have been unusual in 1940s Germany—especially considering Germany and England were enemies in the war. He also pointed out that the cords are from a later era and how stories of the phone's origins have changed over the years. Not surprisingly, the auction house has stood by the item's authenticity, despite the provenance seeming to not stand up to scrutiny. [3]
7

Igbo Sacred Art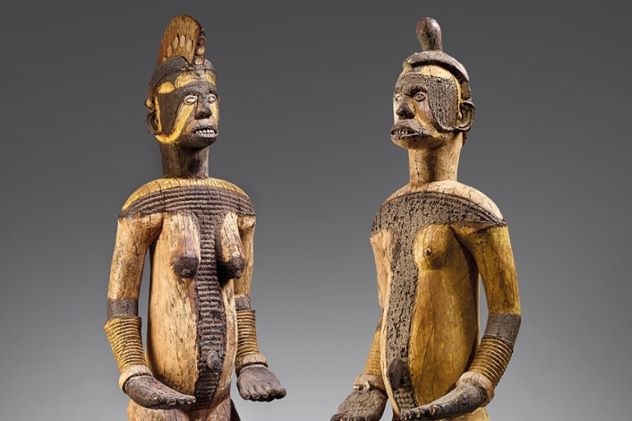 The Igbo people are an ethnic group in Nigeria, with an estimated population of 40 million, making them one of the country's largest tribes. A pair of Igbo sacred art objects went under the hammer at Christie's in June 2020, and the resulting controversy brought to light a different side of contested provenance. While no one was disputing the age and authenticity of the items, it was questioned whether the artifacts had been obtained in legal trade and if the seller even had the right to put them up for auction.
Princeton University professor Chika Okeke-Agulu went public with claims that the objects were looted during Nigeria's 1960s civil war. Okeke-Agulu pointed out how the story of the objects had always said they were acquired in 1968—until they went up for auction, and Christie's moved the date to a less-controversial 1983. Although the sale went through for $239,000, Okeke-Agulu and the Nigerian government work to continue to bring awareness to war looting. They also call for sacred objects to be returned to their native people.[4]
6

The Velázquez "Young Immaculate"

Diego Velázquez was a 17th-century Spanish painter who has a Virgin Mary painting, The Immaculate Conception, in London's National Gallery. In April 2017, a newly discovered work went up for auction—Retrato de Niña o Joven Inmaculada (Portrait of a Girl or Young Immaculate). It features a young girl with hands held in prayer, similar to the Immaculate Conception, leading to it being billed as "potentially an early work" by Velázquez. If it is a true Velázquez, then it likely would have been done when he was still a teenager.

This is a good example of another phenomenon around provenance uncertainty: taking a risk. Modern techniques employed by art historians today can eventually provide a degree of certainty of a work's origins over time. But do you want to miss out on the auction now? Apparently, enough art collectors were willing to take the risk, as it sold for €8 million (approximately US$9 million) when it was sold on April 25, 2017, at the Spanish auction house Abalarte in Madrid.[5]
5

Steve McQueen's Rolex

The late actor Steve McQueen was the epitome of antihero cool in classic films such as Bullitt (1968), The Thomas Crown Affair (1968), and Papillion (1973), so who wouldn't want to own a part of his fashion ensemble? In 2018, auction house Phillips attempted to give that chance to a lucky fan when they put his Rolex Submariner wristwatch up for sale.

Almost immediately after the auction was announced, fans pointed out a tiny problem—there was no photographic evidence of McQueen ever wearing this watch. Phillips said the watch was given by McQueen to his former stuntman, Loren James. McQueen's estate entered the debate, disputing that the Rolex in question ever belonged to McQueen. Phillips eventually canceled the sale, saying they still believed McQueen had gifted the watch to James but conceded that they could not provide evidence that McQueen ever wore it.[6]
4

The Van Gogh Landscape

Vincent van Gogh is one of the more recognizable names in the world of fine art, due in no small part to previously unknown works resurfacing with some regularity. The Van Gogh Museum accepts around 200 pieces for authentication every year, with approximately five each year meriting further study. And some of those do eventually get certified as authentic works of the master. This can lead some auction-goers to take a risk and bid on an unverified painting.

One such case happened in 2021 when art collector Stuart Pivar picked up what he believes to be a Van Gogh landscape painting at an auction outside of Paris. The 3′ x 3′ work is titled Auvers, 1890, after the town where Van Gogh lived in the weeks leading up to his death in July 1890. If it is eventually authenticated as a legitimate Van Gogh, it will turn out to be his largest work—and the only one painted on a square canvas. And, one can assume, Pivar will net a healthy profit on his investment.[7]
3

The Timurid Qur'an

The Qur'an is the Islamic holy book, and in June 2020, Christie's sold an unbelievably beautiful 15th-century copy known as the Timurid Qur'an. Between its Arabic calligraphy and its gold-flecked, colored paper, it is an incredible work of art that fetched a hefty £7 million (approximately US $9.5 million) at auction.

But that buyer had to take an incredible leap of faith on its provenance, which was unknown prior to the 1980s. While the piece is believed to have been created at the court of a Timurid prince in what is now Iran or Afghanistan, it is going to take a lot of work for the new owner to fill in the gaps in its history between the 1400s and the 1980s.[8]
2

Counterfeit Wine

Extremely old or well-regarded bottles of wine are a natural fit for the world of high-dollar auctions. It's also a temptation for counterfeits to make their way into auctions. In April 2021, U.S. Immigration and Customs Enforcement (ICE) deported Rudy Kurniawan following a conviction for wine counterfeiting. In 2006, Kurniawan was having what seemed to be a great year, netting $34 million worth of wine over two auctions.

The sales, facilitated by auction house Acker Merrall & Condit, were called into question when 22 lots of wine at another Acker auction were identified as fakes. In 2012, the FBI found a fake wine assembly line in the kitchen of Kurniawan's Los Angeles home. And apparently, Kurniawan's criminal acts are not unique. Wine Industry Advisor posted an article in February 2022 advising people to only buy collectible wine at charity auctions, so you can at least know your money went to a good cause if the wine turns out to be counterfeit.[9]
1

Hobby Lobby Biblical Antiques

Steve Green is the president of arts-and-crafts chain store Hobby Lobby and the found of The Museum of the Bible. However, the museum has proved to be troublesome for Green and Hobby Lobby. In 2017, Hobby Lobby paid $3 million in fines and forfeited more than 140 ancient artifacts after the U.S. Department of Justice alleged that the pieces had been illegally imported into the United States.

Hobby Lobby has made some effort to recoup some of its losses. In 2020, they sued Christie's over the $1.7 million sale of a tablet featuring the Epic of Gilgamesh. Hobby Lobby alleged that Christie's didn't do their due diligence to verify the artifact's provenance and that the previous owner had concocted a false history for the piece. As of February 2022, Hobby Lobby has amended its complaint, adding the previous owner as a defendant.[10]